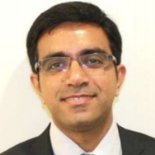 Mukesh Ahlavadi
Larsen & Toubro Limited
Chief Representative Europe and Americas
Born in 1980 and graduated in Mechanical Engineering at Punjab University in 2002. He holds an Executive MBA from HEC, Paris.
He joined Larsen and Toubro, Heavy Engineering Division in 2004. He was assigned as Project Manager until 2010 managing Projects for ExxonMobil, Chevron, Saudi Aramco, Petronas, IOCL and then he took the position of Production In-charge until 2012, managing Projects for KNPC, Petrobras, Shell. From 2012-2014, he was BD manager for Americas, Europe, and ME, then from 2014-2016 he was Executive Assistant to Group Chairman for business verticals of Heavy Engineering, Shipbuilding, Defense and IT/Engg. services.
In August 2016 he has been appointed as Chief Representative Europe responsible for Sales and Marketing of Heavy Engineering Division and then from 2019 additional responsibility of Americas.