AUTOMA 2021 Networking Leaderboard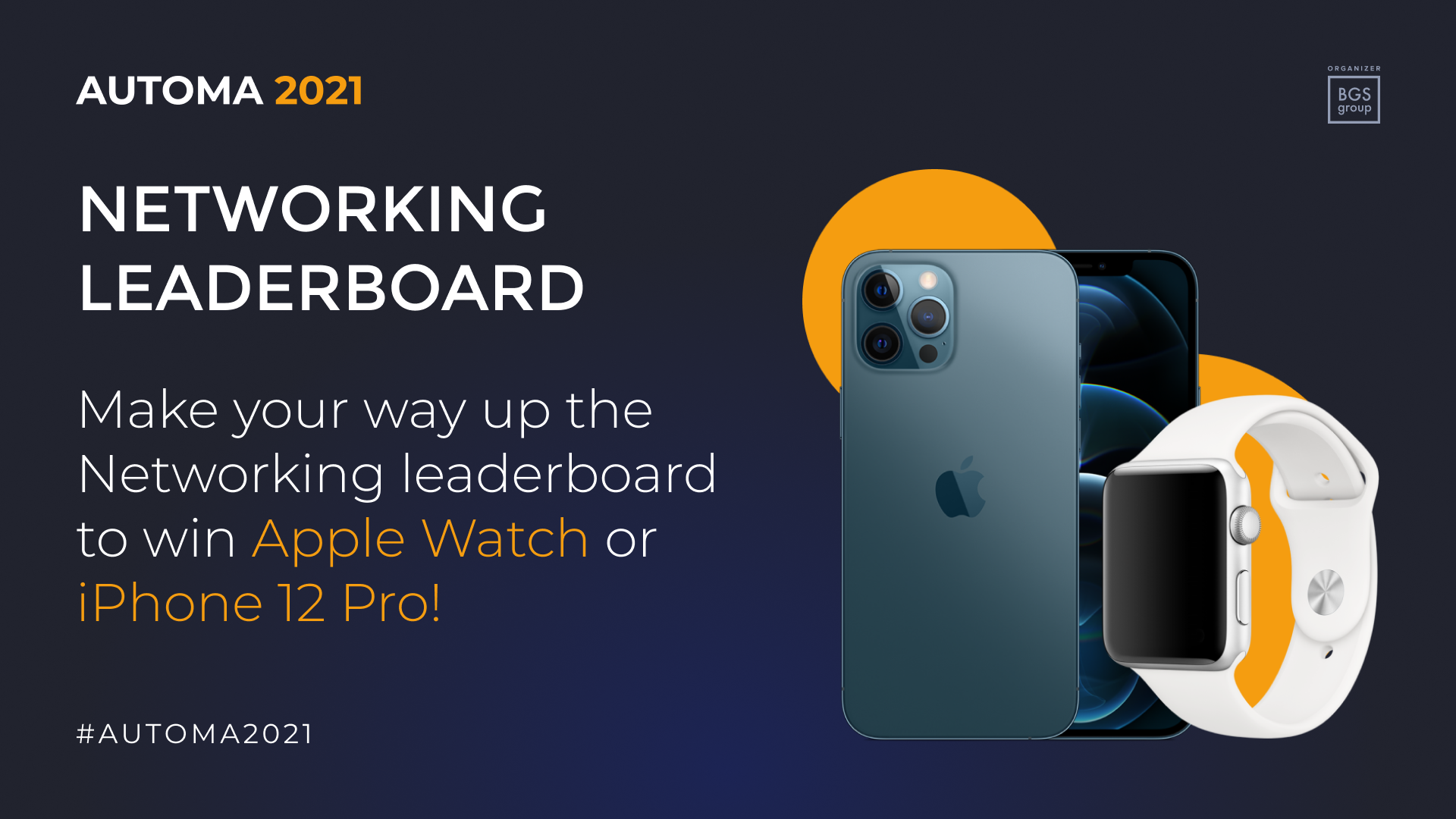 Top the leaderboard of the AUTOMA 2021 Congress! Boost your score by participating in Congress activities. Start more chats and video calls, visit more stands, join more sessions to win Apple Watch Series 6 or iPhone 12 PRO!
HOW TO PARTICIPATE?
You will automatically earn points by:
Logging on to the BGS online

Сhoosing the sessions you want to attend

Attending the sessions

Visiting exhibitors' booths

Attending B2B meetings

Visiting sponsors' profiles

Starting a chat
The Prizes
Leader of Day 1: Apple Watch Series 6 from the Congress organizer - BGS Group

Leader of Day 2: iPhone 12 PRO from our Host Sponsor - OMV Petrom

Leader of Day 3: iPhone 12 PRO from our 3rd Day Partner - Microsoft
PLEASE NOTE: The Winners will be excluded from further Leaderboard competition.
The Winner of the Day will be announced at 16:00 PM (CET) on BGS Online Live Feed. Our manager will contact the winners regarding the prize delivery.
The Leaderboard will update approx. every 3 hours.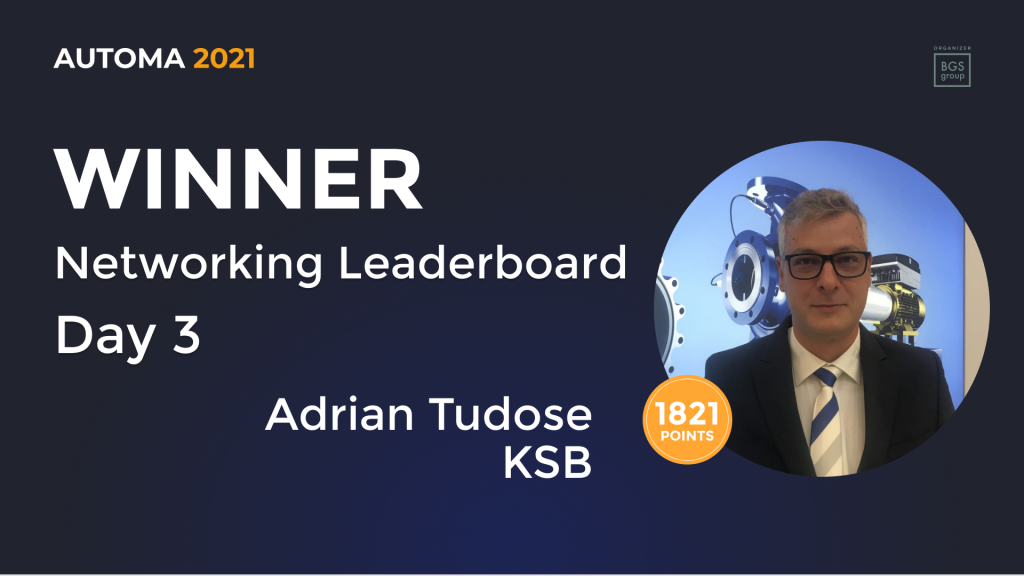 | | | |
| --- | --- | --- |
| # | Name | Records |
| 1 | Adrian Tudose | 1821 |
| 2 | Simos Efthymiadis | 1028 |
| 3 | Calin Buzan | 857 |
| 4 | Ștefana Ioneanu | 278 |
| 5 | Ahmet Isletir | 221 |
| 6 | Eleonora Porcu | 100 |
| 7 | Abhik Sengupta | 93 |
| 8 | Leonid Korelstein | 87 |
| 9 | Dejan Bros | 63 |
| 10 | René Arnost | 63 |
| 11 | Brahim Medjkoune | 56 |
| 12 | Marius Farcas | 54 |
| 13 | Marc Timis | 52 |
| 14 | Antoine Duplan | 51 |
| 15 | Stamen Fartunov | 47 |
| 16 | Jörg Eitler | 46 |
| 17 | Avijit Ashesh | 41 |
| 18 | Ueli Rothen | 41 |
| 19 | Dr. Michael Honné | 40 |
| 20 | Martin Berg | 38 |
| 21 | Andreas Rücker | 37 |
| 22 | Catarina Araújo | 34 |
| 23 | Cristobal Moreno | 34 |
| 24 | Mika Neffling | 34 |
| 25 | Ciprian Iorga | 32 |
| 26 | Craciun Ionel | 29 |
| 27 | Denis Rasulev | 29 |
| 28 | Oana Pascau | 28 |
| 29 | Peter Mantel | 28 |
| 30 | Serena Liu | 27 |
| 31 | Burak Ucoz | 26 |
| 32 | Tjidde Boers | 26 |
| 33 | Udo Ramin | 26 |
| 34 | Claudiu Orban | 25 |
| 35 | Inga Khchoyan | 25 |
| 36 | Tolga Timirci | 25 |
| 37 | Ivana Hercegová | 24 |
| 38 | Simona Maria Man | 24 |
| 39 | Adrian Grosu | 23 |
| 40 | Klaus Lechtenboerger | 23 |
| 41 | Claudio Tejerina | 22 |
| 42 | Stelian Salcudean | 22 |
| 43 | Alina Nicoleta Popescu | 21 |
| 44 | Claudiu Bratu | 21 |
| 45 | Raman Kumar | 21 |
| 46 | William Gibbons | 21 |
| 47 | Kathy Sweet | 20 |
| 48 | Peter Beckers | 20 |
| 49 | Uwe Luer | 20 |
| 50 | Alexandru Paraschiv | 19 |
| 51 | Catalin Cernat | 19 |
| 52 | Koldo Apraiz | 19 |
| 53 | Mark Breese | 19 |
| 54 | Mustafa Bakır | 19 |
| 55 | Andrei Pinte | 18 |
| 56 | Ovidiu Bradin | 18 |
| 57 | Panagiotis Tsiakis | 18 |
| 58 | Dusan Ciric | 17 |
| 59 | Narcis Stoica | 17 |
| 60 | Yasser Hijazi | 17 |
| 61 | Antonia Aristidopoulou | 16 |
| 62 | Arturo Fraile | 16 |
| 63 | Ivan Sarađen | 16 |
| 64 | Mateja Matko | 16 |
| 65 | Peter Semancik | 16 |
| 66 | Alessio Longhini | 15 |
| 67 | Daniel Salvador | 15 |
| 68 | Dorel Soucaliuc | 15 |
| 69 | Johan Ferket | 15 |
| 70 | Khairul Anwar Idris | 15 |
| 71 | Koray Özkuzu | 15 |
| 72 | Arik Degani | 14 |
| 73 | Ibrahim Bayar | 14 |
| 74 | Jan Tønder | 14 |
| 75 | Khalid Alnoaimi | 14 |
| 76 | Kseniya Kultysheva | 14 |
| 77 | Alp Eren Vedin | 13 |
| 78 | Kevin Edwards | 13 |
| 79 | Silviana Olteanu Foarfeca | 13 |
| 80 | Alberto Pelaez | 12 |
| 81 | Andreea Tatuta | 12 |
| 82 | Daniel Seidel | 12 |
| 83 | Geert Paelinckx | 12 |
| 84 | Miriana Roman | 12 |
| 85 | Bruno Vrielynck | 11 |
| 86 | Doru Stoica | 11 |
| 87 | Luca Bellan | 11 |
| 88 | Martin Hoof | 11 |
| 89 | Maurizio Podda | 11 |
| 90 | Peter Brink | 11 |
| 91 | Stuart Sullivan | 11 |
| 92 | Luciano Narcisi | 10 |
| 93 | Neil Bianco | 10 |
| 94 | Eduard Kesely | 9 |
| 95 | Francesco Coletti | 9 |
| 96 | Manuela Badea | 9 |
| 97 | Philipp Esser | 9 |
| 98 | Sergio Aquenza | 9 |
| 99 | Vince Vella | 9 |
| 100 | Bernd Hammer | 8 |
| 101 | Duygu Ökesli | 8 |
| 102 | Firas Hijazi | 8 |
| 103 | Lapo Chirici | 8 |
| 104 | Peter Paul Pruijn | 8 |
| 105 | Richard Pye | 8 |
| 106 | Vadim Turcan | 8 |
| 107 | Al Rivero | 7 |
| 108 | Alena Chernysheva | 7 |
| 109 | Anton Grigore | 7 |
| 110 | Damien Munroe | 7 |
| 111 | Evangelos Makrinos | 7 |
| 112 | Jacopo Chirici | 7 |
| 113 | Kevin Vardy | 7 |
| 114 | Mareike Braun | 7 |
| 115 | Milos Babic | 7 |
| 116 | Rok Urbas | 7 |
| 117 | Sara Verri | 7 |
| 118 | Tibor Bacsó | 7 |
| 119 | Zdeněk Zadák | 7 |
| 120 | Ahmed Sabaa | 6 |
| 121 | Irina-Melania Raducu | 6 |
| 122 | Marian Alionte | 6 |
| 123 | Massimo Balestra | 6 |
| 124 | Sudhir Kumar Mishra | 6 |
| 125 | Vladan Cvejic | 6 |
| 126 | Volodymyr Moisieiev | 6 |
| 127 | Alin Manache | 5 |
| 128 | Daniella Serheieva | 5 |
| 129 | Eren Aktar | 5 |
| 130 | István KOVÁCS | 5 |
| 131 | Mikhail Naugolnov | 5 |
| 132 | Oleksandr Arkhipov | 5 |
| 133 | Prashant Soni | 5 |
| 134 | Simona Cortese | 5 |
| 135 | Yehiel Viner | 5 |
| 136 | Zoltan Daniel | 5 |
| 137 | Alexandru Ganziuc | 4 |
| 138 | Carsten Schermer | 4 |
| 139 | Constantin Timofti | 4 |
| 140 | Denis Chirioglo | 4 |
| 141 | Filippo Scurti | 4 |
| 142 | Goran Jajic | 4 |
| 143 | Karsten Schulze | 4 |
| 144 | Kıvanc Caglayan | 4 |
| 145 | Nicolas J. Kaplanis | 4 |
| 146 | Philippe Amato | 4 |
| 147 | Stojan Jovanovic | 4 |
| 148 | Szilard Feher | 4 |
| 149 | Valentin Curelea | 4 |
| 150 | Valeriu Filip | 4 |
| 151 | W Zulkefli Sulaiman | 4 |
| 152 | Andreas Frejborg | 3 |
| 153 | Francisco Rivero Briceno | 3 |
| 154 | Jose Francisco Gonzalez | 3 |
| 155 | Marvin Schuster | 3 |
| 156 | Nergiz Gencal | 3 |
| 157 | Parth Shah | 3 |
| 158 | Robert Opletal | 3 |
| 159 | Yevgenii Rogozin | 3 |
| 160 | Amato Nicoli | 2 |
| 161 | Andrea Curzi | 2 |
| 162 | George Konstantelos | 2 |
| 163 | Ioannis Felemegkas | 2 |
| 164 | Ionut-Cristian Ciubotaru | 2 |
| 165 | Jack Leahey | 2 |
| 166 | Martin Adlung | 2 |
| 167 | Murat Ozkal | 2 |
| 168 | Richa Banotra | 2 |
| 169 | Samuli Bergman | 2 |
| 170 | Shamil Fazleev | 2 |
| 171 | Stefan Gavelin | 2 |
| 172 | Stelian Suciu | 2 |
| 173 | Yevgen Melnyk | 2 |
| 174 | Yuko Iizuka | 2 |
| 175 | Alexandru Dragomir | 1 |
| 176 | Cristian Bucur | 1 |
| 177 | Gabriel Leca | 1 |
| 178 | Juan María Aramburu | 1 |
| 179 | Kleio Zacharnoudi | 1 |
| 180 | Konstantin Ermakov | 1 |
| 181 | Luigi Anselmi | 1 |
| 182 | Marin De Caumont | 1 |
| 183 | Mehmet Bayar | 1 |
| 184 | Mihai Draghici | 1 |
| 185 | Mircea Suciu | 1 |
| 186 | Richard Marsh | 1 |
| 187 | Roman Koltun | 1 |
| 188 | Roxana Perianu | 1 |
| 189 | Rustam Sadigov | 1 |
back to the news list